Def Leppard, Poison & Tesla
May 3, 2017, Wednesday @ 7:00pm

Get ready for Def Leppard, Poison and Tesla!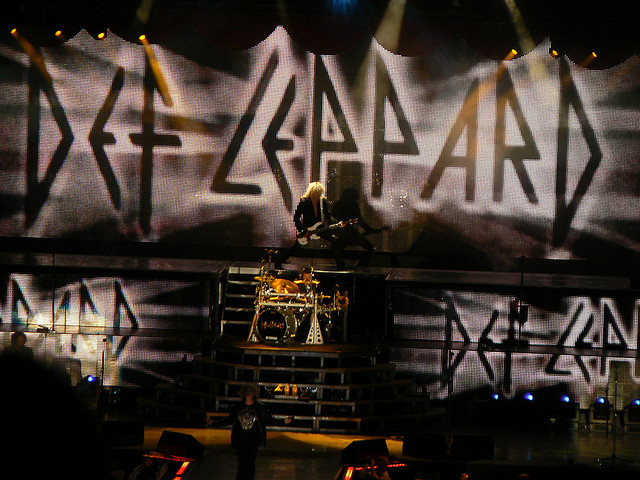 Def Leppard
An iconic English rock band, Def Leppard formed in 1977 and pioneered the British heavy metal movement. The band reached the height of success in the 1980s and 1990s. "Bringin' On the Heartbreak" from the 1981 album High 'n' Dry was one of the first rock videos to air on MTV. The singles "Rock of Ages" and "Photograph" from the 1983 album Pyromania made Def Leppard a household name. Pyromania is diamond certified, and ranked 384 the 500 Greatest Albums of All Time list.
The band's 1987 album Hysteria produced seven hits and sent the album 12x platinum. Hits from the album include "Hysteria," "Pour Some Sugar On Me," "Love Bites," "Animal" and "Women."
Def Leppard is one of the best-selling bands of all time, with more than 100 million records sold worldwide.
Poison
With more than 50 million records sold worldwide, Poison led the glam and heavy metal movement in the U.S. in the 1980s and 1990s. Poison's debut album Look What the Cat Dragged In went multi-platinum, but their second studio album Open Up and Say… Ahh! was their most successful album, certified 5x platinum. Since reaching the height of fame, Poison has continued to release albums and tour regularly. To celebrate their 20-year anniverary in 2006, the band released The Best of Poison: 20 Years of Rock and went on tour. The album went Gold and landed the band a spot on the Billboard top 20 charts.
Posion's most famous singles include "Every Rose Has Its Thorn," the band's most iconic song, along with "Something to Believe In," "Unskinny Bop," "Nothin' But a Good Time,"and "Talk Dirty To Me."
Tesla
A heavy metal band from Sacramento, California, Tesla formed in 1981 as City Kidd with Frank Hannon and Brian Wheat. Troy Luccketta and Jeff Keith would join the band in 1984. The band transitioned from glam to heavy metal and blues around 1986 and started going by the name Tesla. The name stuck, and the band would go on to sell 14 million records in the United States. Tesla is known for the singles 'Love Song," "Modern Day Cowboy," "Gettin' Better," and "Taste My Pain."
Comments
comments