Lakewood Amphitheater (Cellairis Amphitheatre at Lakewood)
Spanning 75 beautiful, wooded acres, Lakewood Amphitheater (Cellairis Amphitheatre at Lakewood) is with little doubt the finest music venue in all of Atlanta. The amphitheatre has 4000 seats for reservation under pavilion roofing, 3000 reserved seats under the starlit sky and a large lawn with enough space for 12,000 more happy music lovers to enjoy their preferred musical performances.
Click here to view the events schedule for Lakewood Amphitheater.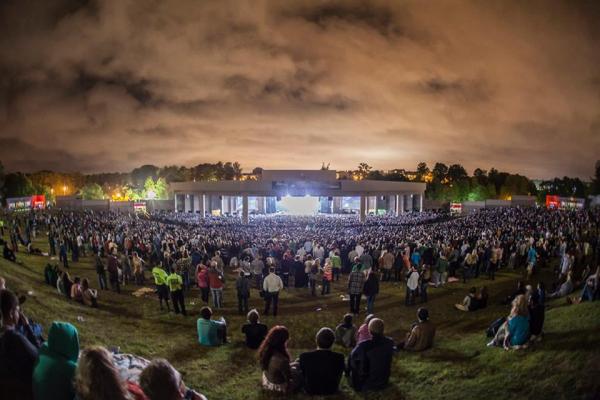 Carefully and specifically designed with live popular music in mind, Lakewood Amphitheater serves as a stunning venue for precisely that purpose. It boasts advanced lighting and sound technology, making it the perfect setting for world famous performers to deliver breath-taking entertainment to their audiences. The result is an unforgettable experience and once-in-a-lifetime memories of some of the greatest legends in music.
It comes as no surprise then that Phish, among others, cited the amphitheatre as one of their favorite performance venues, primarily due to the unrivalled audio experience the venue delivers. Lakewood Amphitheatre has also featured on two Linkin Park CD's, first their 2004 performance of "One Step Closer" on their LPU 4 CD and subsequently their 2007 performance "The Little Things Give You Away" on their LPU 7 CD.
Just some of the other quality acts to have featured are Tim McGraw, Sting, Dave Matthews Band, Jimmy Buffett, Eric Clapton, Elton John, Pearl Jam, and Aerosmith.
The venue has recently stepped up it's game to bring its visitors $4 draft beers from a total of three liquor bars, a local food truck, value meals featuring cheeseburgers, hot dogs, or chicken tenders with fries & drink, beer, champagne, fruit, cheese, sandwiches and pizza. There are two exclusive VIP decks with private bar service, picnic tables on the grounds complete with umbrellas and the list goes on. With the upcoming performance line up, a host of venue upgrades, and experience-enhancing acoustics, it's hard to imagine a better place to see your favorite acts than Lakewood Amphitheater.
Located approximately 3.8 miles south of downtown Atlanta, you'll also be close enough to sample the fantastic nightlife, premier cuisine and shopping opportunities the city has to offer.
Previous Names
Originally named Lakewood Amphitheatre after opening in 1989, the amphitheater has since changed names several times and has now reverted back to it's original title. Known for a long time as the Coca-Cola Lakewood Amphitheatre, it briefly took up its original name again in 2000. Then in 2001, the venue became known as HiFi Buys Amphitheatre. It wasn't until 2008 that the venue again changed its name back to Lakewood Amphitheatre, at which point a logo not dissimilar to the one used prior to becoming the HiFi Buys Amphitheatre was used. In May 2009, Aaron's stepped in with a naming-rights agreement and between 2009-2015 the venue carried the title of Aaron's Amphitheatre at Lakewood, before becoming it's classic name of Lakewood Amphitheatre once again in 2016. Since November 2017 it got a new sponsor and is known as Cellairis Amphitheatre at Lakewood.
Getting There
Arriving at the amphitheater couldn't be easier. It's just 3.5 miles from Hartsfield Airport, and served by a nearby MARTA station and major roads. For the latter take I-75/85 to the Langford Freeway East Exit and then just follow the signs all the way to Lakewood Amphitheater.
Parking
There is VIP Premier Parking available (which gets you right up close to the entrance) for most shows. This can be purchased prior to arriving or an upgrade to VIP parking can usually be made at the Pryor Road entrance.
Standard Parking is always available. If the cost of standard parking is included in the ticket price, this will be stated in the ticket text. Otherwise, you can expect a separate parking charge.
The total parking capacity is approximately 6,000. Opening times for the parking lots are subject to change.
General Rules
Please note that the venue outlines some existing rules:
Unfortunately umbrellas are not permitted. Events will stick to schedule, regardless of weather conditions.
Cameras: you may bring personal cameras into the venue. However, it is not permitted to use flash photography, video or removable lens cameras unless otherwise granted permission by the venue.
Coolers, Baskets, and Lawn Chairs are prohibited (in the case of lawn chairs, these may be rented at the venue for specific events depending on the venue's decision, or performers indications.)
Re-entry IS NOT permitted.
Food and beverages may not be brought in from Off Premises, with the exception of one factory sealed bottle of water per paid admission.
Concessions are available.
Certain shows may prohibit beer and wine sales if artists request.
Certain shows may require that all beverages be transferred into a cup.
Children are welcome. Everyone over 2 requires a ticket.