Chance The Rapper
Sunday, June 11, 8:00PM

Chance the rapper is coming to Aarons in May!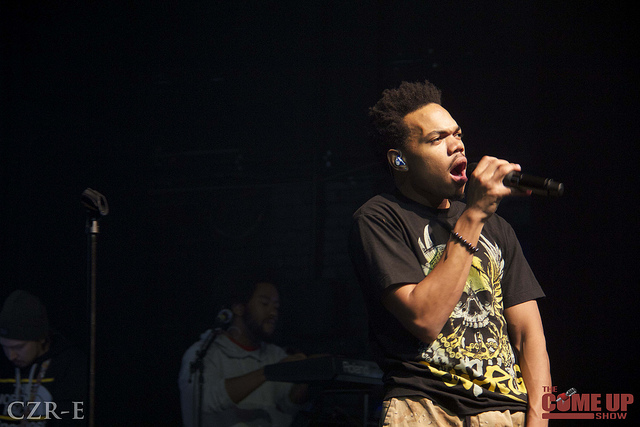 The 23-year-old star Chance the Rapper hails from Chicago and made a splash in the rap scene in 2011. The star, also known as Chano, appeared on a Childish Gambino mixtape in 2012 with great success. Chance joined Gambino on a tour, helping push his popularity to new heights and jumpstarting the rapper's career.
Acid Trip, the artists' second mixtape was widely popular with over one million downloads.
The mixtape / album made several top 50 album lists in 2013, including the Rolling Stones' list. The artist was featured on the Myspace relaunch alongside big names, such as Pharrell Williams and Mac Miller.
Forbes listed Chance the Rapper in their "Forbes Under 30" 2015 music list, ranking him at number 7.
Chance's popularity continued to rise in 2016 following the release of Coloring Book, which won best mixtape at the BET Hip-Hop Awards. He has also won the Grammy Awards Best New Artist award in 2017 along with Best Rap Album for Coloring Book.
The Chicago activist is known for his religion, which is reflected in many of his songs. He is a strong activist against gun violence in Chicago alongside his father. He has fought for gun violence to stop in Chicago through the #SaveChicago campaign in 2014.
Chance met with former President Barack Obama in 2016 in an effort to promote the My Brother's Keeper Challenge. The challenge is the promotion of civic leaders to help young men of color overcome challenges they face. He was accompanied by numerous big names, including Alicia Keys and Busta Rhymes.
He has offered to donate $1 million to Chicago Public Schools to make up for the lack of funding the school's provide.
Chance the Rapper's popularity is continuing to grow, with appearances on Jimmy Fallon and the Ellen DeGeneres Show. He has created a short film called Mr. Happy, which was released in 2015.
Image by Come Up Show on Flickr
Comments
comments